Meghan
This user hasn't shared any biographical information
Posts by Meghan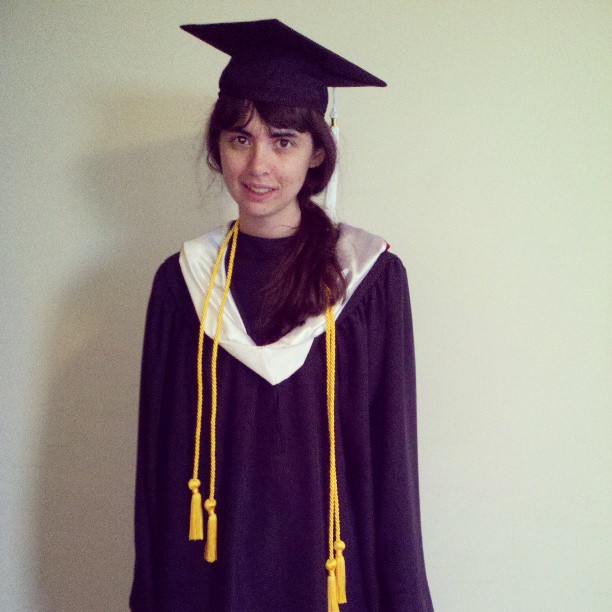 This week marks the end of many college semesters in my region, which means there are a lot of students moving out of campus dorms and apartments. Unfortunately, this means a lot of things get thrown out that could easily be used! My little sister also just finished college (congrats, Maura! I snapped this photo of her at 8am on her graduation day!), so I'm getting to see this all play out again first hand.
In my former neighborhood of West Philly, the end of the semester for the University of Pennsylvania is seen by many as "Penn Christmas." For the weeks following the end of the academic year, people dumpster dive and trash pick wonderful treasures. Some trash finds are downright mythic. I have a friend who claims to have discovered both an iPod and a backpack that still had cash in it!
Since 2008, UPenn has been working to eliminate the amount of items that get tossed. PennMOVES collects donated items, and then resells them to benefit local charities. It's such an excellent idea! I wish more schools would implement such a program. If you are interested in scoping out some free secondhand treasures, I definitely recommend looking up your local college's academic calendar.
Do you know of other colleges that collect donated items from their students moving? Or have you found such cool items after college lets out? Let me know!
We are still settling down after a busy week of awesome events with the Philadelphia Science Festival. Anita and I met so many wonderful people through the Science Carnival, our teacher workshop, and the South Philly Neighborhood Science Activity.
One thing I am particularly proud of is how creative we got with our materials. Our mission was to create a model to show the importance of green spaces in cleaning polluting contaminants out of our water and helping to slow the flow of rain waters. With limited money and time, we also hoped to reuse as much materials as possible and produce very little waste.
So, what did we end up using? Anita snagged hundreds of used plastic water bottles from an education conference. We trash picked a few more plastic liter bottles from our respective neighborhoods. (Don't worry, Mom; I washed my hands thoroughly!) We used old pantyhose that had holes in them to hold our soil profiles in place in the plastic bottles. We collected coffee grounds from our homes and had more given to us by the coffee shop around the corner from our office. Our bookkeeper Terry donated leftover soil that was taking up space in her home garden's shed. All we had to purchase was some gravel, sand, and radish seeds! Not too shabby!
Curious about this awesome science activity? The full details are available on EcoExpress.org.
The Philadelphia Science Festival is a ten-day, community-wide celebration of science that takes place annually in April, featuring lectures, debates, hands-on activities, special exhibitions and a variety of other informal science education experiences for Philadelphians of all ages. GreenTreks Network's environmental education program, EcoExpress.org, will be participating in three upcoming events as part of the Philadelphia Science Festival!
Science Carnival on the Parkway
Saturday, April 20, 2013, 11:00 AM to 4:00 PM
at Logan's Circle (on the Benjamin Franklin Parkway at 19th Street in Philadelphia, PA)
You've never experienced an outdoor carnival like this one! This carnival features more than 100 exhibitors offering non-stop, family-friendly experiments, interactive activities, games, and a packed line-up of live entertainment. Enjoy liquid nitrogen ice cream, make gak, meet live zoo animals, check out the inner-workings of robots, take a tour of a helicopter, extract DNA from a strawberry, test a "crime scene" for forensic evidence, and so much more!
Teacher Workshop: Connecting to our Everyday Environment with EcoExpress.org and the PA Horticultural Society
Monday, April 22, 2013, 4:00pm to 7:00pm
at the Department of Making and Doing (3711 Market Street, Philadelphia, PA 19104)
Engage in a lively discussion with other educators on how to make cross-curricular connections to environmental science. Then, learn how to address ecological topics while using your student's everyday environment and gain valuable classroom resources from EcoExpress and the Pennsylvania Horticultural Society. Participating Pennsylvania-based teachers will receive three Act 48 credit hours. Register for free here.
Student Event: Neighborhood Science After School
Thursday, April 25, 2013, 3:30pm to 5:30pm
at the South Philadelphia Branch of the Free Library (1700 South Broad Street, Philadelphia, PA 19145)
Turn your kitchen into a science lab! Discover how chemistry plays a role in some of your favorite foods. Then, learn how you can keep our drinking water safe and clean by protecting water at the source, and how to write and break secret codes! Fairmount Water Works Interpretive Center, the Chemical Heritage Foundation, and Temple University will also be presenting! This event is FREE and open to students in K through 12!
In addition to attending these excellent events, don't forget to enter EcoExpress' contest to win a mini video camera!
After seeing the wonderful presentation that Bartram's Garden at Spring into Science Education, I felt inspired to visit the beautiful garden again. Here are some photos from my little escape to that natural oasis!
It's been out for a couple weeks now, but we are THRILLED with the response that our newest documentary has received! "Rain Gardens: Saving Streams One Yard at a Time" premiered two weeks ago at Spring into Science Education, which was co-hosted by EcoExpress and the Philadelphia Math + Science Coalition. Since then, we've received such wonderful, positive feedback!
Our EcoExpress program is running a contest related to the Rain Gardens documentary. Learn more here about how you could win a mini video camera to capture your own stories that change the world!
Our StormwaterPA program also features the documentary, with great stormwater management resources!
Below are some photos from the 3rd Annual Spring into Science Education Expo! We had such an amazing time. Thanks so much to everyone who participated! One of EcoExpress' biggest fans, Adjoa, sent us some of these photos. Thanks, Adjoa! See more photos on the EcoExpress Facebook Page.