Graduating to More Sustainable Ways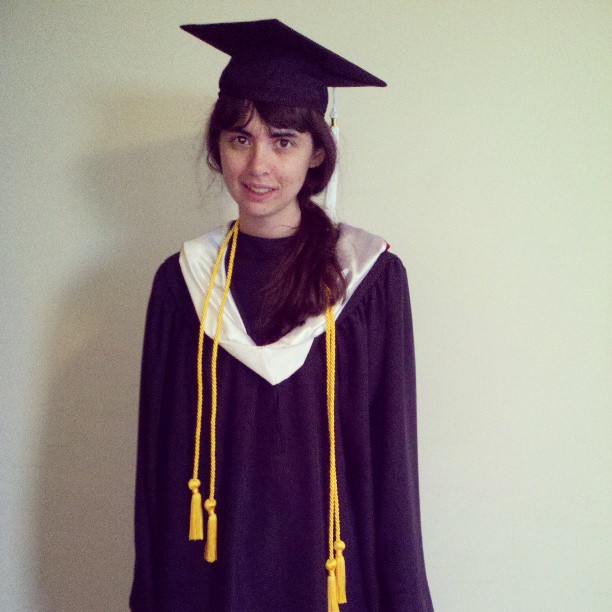 This week marks the end of many college semesters in my region, which means there are a lot of students moving out of campus dorms and apartments. Unfortunately, this means a lot of things get thrown out that could easily be used! My little sister also just finished college (congrats, Maura! I snapped this photo of her at 8am on her graduation day!), so I'm getting to see this all play out again first hand.
In my former neighborhood of West Philly, the end of the semester for the University of Pennsylvania is seen by many as "Penn Christmas." For the weeks following the end of the academic year, people dumpster dive and trash pick wonderful treasures. Some trash finds are downright mythic. I have a friend who claims to have discovered both an iPod and a backpack that still had cash in it!
Since 2008, UPenn has been working to eliminate the amount of items that get tossed. PennMOVES collects donated items, and then resells them to benefit local charities. It's such an excellent idea! I wish more schools would implement such a program. If you are interested in scoping out some free secondhand treasures, I definitely recommend looking up your local college's academic calendar.
Do you know of other colleges that collect donated items from their students moving? Or have you found such cool items after college lets out? Let me know! !
Earth Science Fun on the Cheap
We are still settling down after a busy week of awesome events with the Philadelphia Science Festival. Anita and I met so many wonderful people through the Science Carnival, our teacher workshop, and the South Philly Neighborhood Science Activity.
One thing I am particularly proud of is how creative we got with our materials. Our mission was to create a model to show the importance of green spaces in cleaning polluting contaminants out of our water and helping to slow the flow of rain waters. With limited money and time, we also hoped to reuse as much materials as possible and produce very little waste.
So, what did we end up using? Anita snagged hundreds of used plastic water bottles from an education conference. We trash picked a few more plastic liter bottles from our respective neighborhoods. (Don't worry, Mom; I washed my hands thoroughly!) We used old pantyhose that had holes in them to hold our soil profiles in place in the plastic bottles. We collected coffee grounds from our homes and had more given to us by the coffee shop around the corner from our office. Our bookkeeper Terry donated leftover soil that was taking up space in her home garden's shed. All we had to purchase was some gravel, sand, and radish seeds! Not too shabby!
Curious about this awesome science activity? The full details are available on EcoExpress.org.